Pony Point House Candles & Stow Creek Soap Shop
Fundraiser Sales Forms can be printed from this location!
You will find three separate images below that make up our Fundraiser Sales Forms
Please Print the forms below as needed and Happy Fundraising!
For best results when printing our forms click each image one at a time,
print as many of the forms as you would like, then select the next image and so on!
If you are unable to open the PDF Sales Files you will need to download the Free
Adobe Reader by clicking Get Free Adobe Reader Here!

If you want fundraising forms mailed to you, please email or call us with your
name and address and indicate how many you would like. After you have completed
your sale, please use the tally sheet and either email, or mail your order.
Once we receive it, we will call you and arrange for a time to pick it up.
( approximately 5-7 days)
You can print your Fundraiser Tally Sheet Here!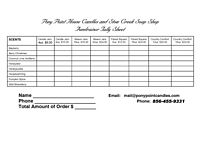 All Orders Are Cash & Carry
We Do Not Offer Any Shipping!










Back to Pony Point House Candles